Does your Practice have the Tech Support needed to meet your needs and requirements?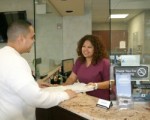 The typical healthcare provider's office is a fast-paced environment that is very dependent on its computer and networking technology, but also subject to more stringent regulations then most other small businesses. For many practices, the need for technical support adds distractions and disruptions from the primary mission of caring for patients. Long Island Systems provides support for the small healthcare practice and can help you navigate the complexities of dealing with your EHR software vendor as well as Meaningful Use and HIPAA Security Assessment requirements.
&nbsp
Reliability

Your EHR software vendor provides a high-quality application, but support for your technology environment as a whole is critical.

&nbsp
Security

The effective implementation and periodic review of Meaningful Use & HIPAA security requirements needs expertise not always available from staff or software vendors.
Guidance

Maintaining a strategy for the ongoing reliability & security of your environment for the longterm can be easier with the advice and expertise that LIS can provide.
&nbsp
The Long Island Systems approach to providing technical support to all our clients is to establish a stable processing environment as a base from which you operate. In the daily use of your software, scanners, printers, and faxes while connecting to and from other sites and devices, you need technical support with a 'holistic' or aggregate view of your unique environment. Sometimes we assist with the initial setup of the network and systems, or we're asked to do a complete rebuild, but in most cases we help move our clients from where they are currently to more stable configuration in measured, non-disruptive steps.
Many of the providers' offices that we've been engaged to support, have grown from a couple of computers to many, but without any standard or consistent configuration and it results in operational problems. This is often because the technology assets were selected by a medical software vendor and then other computer, software, and networking choices were made by someone on the the staff without any expert knowledge or advice. The software vendors are typically expert in what they do as well as technology in general, but support for anything outside of their software is usually limited and frustrating to many healthcare providers.
What we bring to you is 'general' technical support for your technology environment with industry best practices and responsive support for your problems. We cover what is outside your software vendor's scope of support and we provide the expert coordination between those vendors, your Internet Service Provider (Optimum, FIOS, etc.), Hospital IT departments, and any other technology in use at your office.